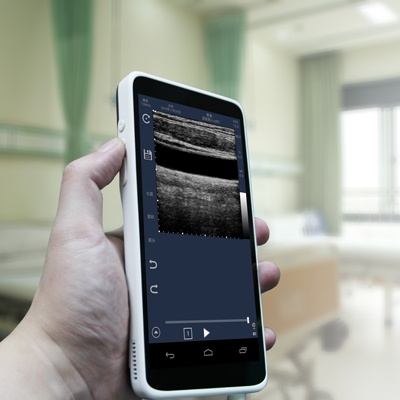 Color 5-10Mhz PW Linear Doppler 128E SONOSIF integrates unique nano-ultrasound imaging ASIC and circuitry, 1.2GHz Quad-core CPU and GPU, as well as 3G/4G/Wifi communication modem designed together. The Wired Color 5-10Mhz PW Linear Doppler 128E SONOSIF provides varieties of applications, from everyday clinical practice (post-surgery monitoring, injection guidance, aspirations, vascular access and line placements, biopsy guidance, and emergency medicine) to family self examinations (bladder control, disease monitoring, breast self-exam, fetus viewing and etc.).
Since all applications are run under Android software operation system with full touch UI. The user can just simply touch the icon on the screen to open the specific application for each practice. Each application is designed for applying to specific case to make using the device so easy that the practitioner can take advantage of it without specific training on the device.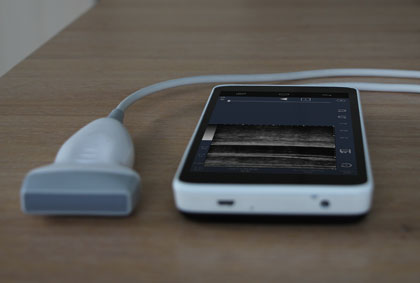 With high speed WiFi/Bluetooth data connection, Color 5-10Mhz PW Linear Doppler 128E SONOSIF can upload the images to private cloud in real time and make telemedicine into the service, so that a specialist in a remote location can weight in on the images that the device records. Combining through bank of images, extract key features/characteristics in the images and artificial-intelligence of deep learning, SONOSIF will enable automate diagnoses in the future.
Wired Color 5-10Mhz PW Linear Doppler 128E SONOSIF is the same size as an iPhone6 plus, this compact and versatile new ultrasound device, creates vivid, moving, clear images of what's inside in real time. Of a person's chest, neck, abdomen or any part on the body skin.
      Features :
Color 5-10 Mhz PW & Steer Linear Doppler 128E SONOSIF .
High speed cellular and WiFi data communication capability.
Clear and rapid imaging for intervention guidance.
Special designed full touch UI for each individual application and easy to operation without special training.
Automatically syncing data to private cloud for telemedicine and mobile telemedicine.
Android sw operation system to make the applications easy for extendable.
Enables ultrasound whenever and wherever necessary.
      Specifications :
Transducer: Electronically focused linear probe (5~10 MHz).
Image depth: 6 cm.
Element count: 128.
Display Mode: B, C, M, B+B, B+M.
Operating System: Android 4.3 .
Touch screen: Capacitive TP.
Frame Rate: 24 FPS.
CPU: 1.2GHz Quad-core Cotex A9.
Display: 6.0  inch with 720*1280 resolution.
Camera: 5M pixels (auto focus).
Memory: 1/2GB LPDDR2 + 8/16/32GB Flash.
Cellular Network: Optional (3G/4G).
Interface: Micro USB 2.0 HS (w/ charging), 3.5mm audio jack.
Sensor: Accelerometer, P/L sensor, E-compass, Gyroscope.
Connectivity: BT 3.0 EDR, WiFi & WAPI, GPS&AGPS.
Radio: Stereo FM radio.
P/W STEER Color Doppler imaging Control.
Scan Result