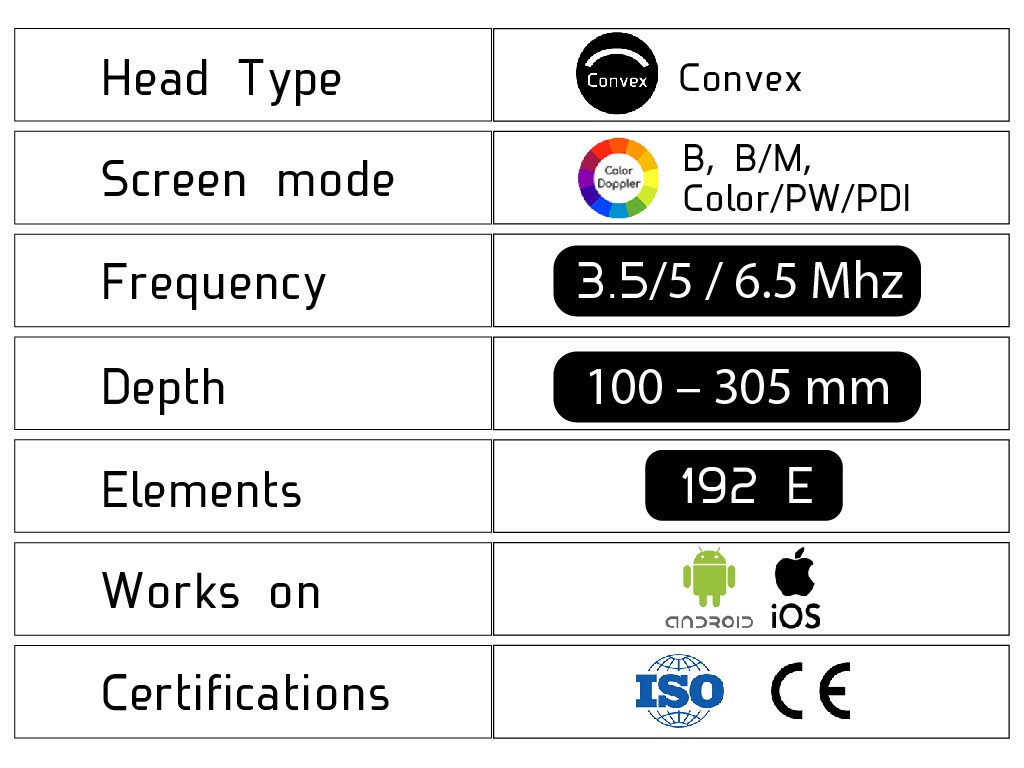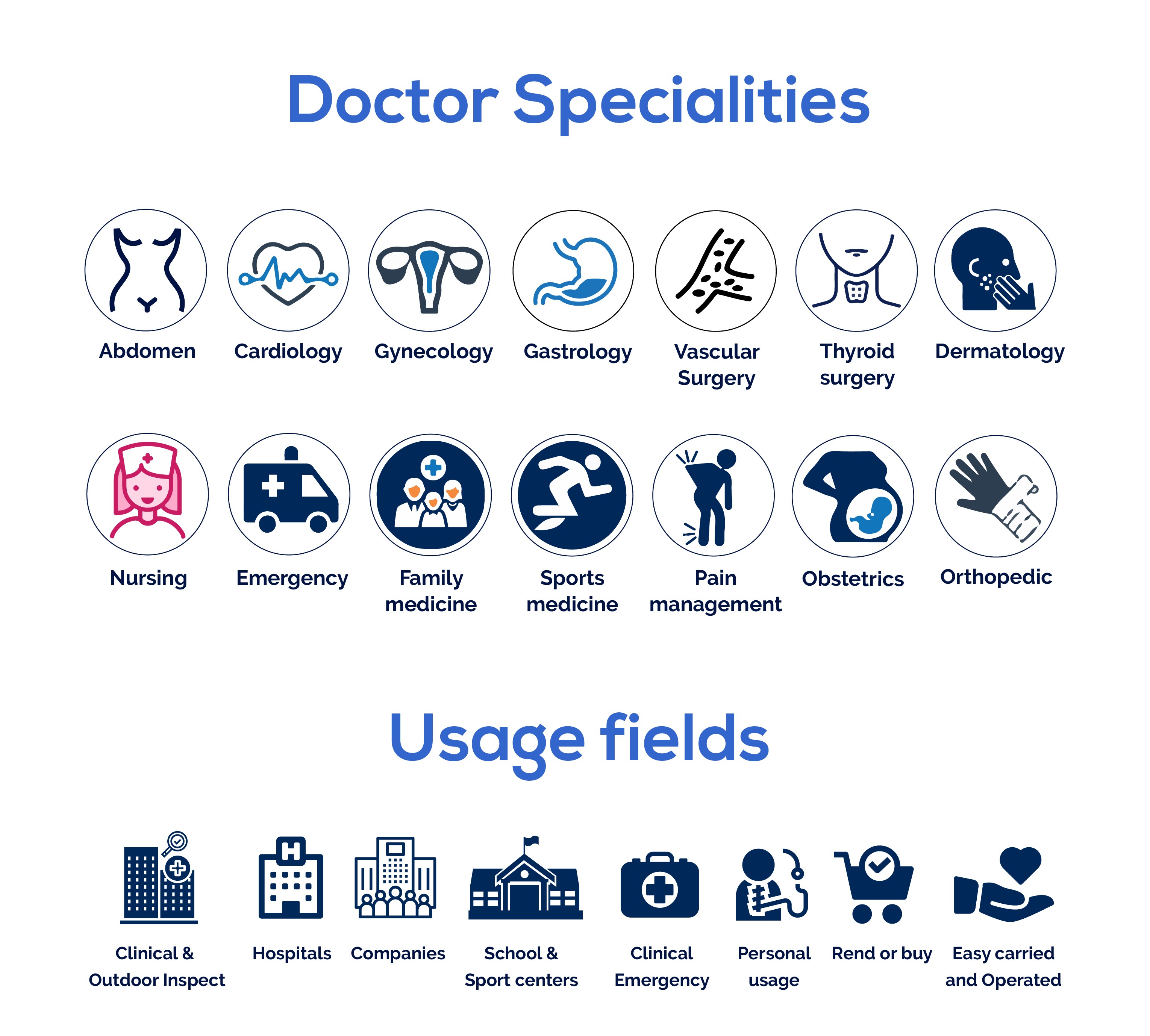 The correct ultrasound transducer is the key to the performance of your ultrasound.  The Wireless Convex Ultrasound Scanner revolutionized the industry by offering the ability to diagnose and treat patients sooner and with more accuracy. The Color Convex Doppler is one of imaging technology's most affordable and available modalities.
It is small and light, easy to carry and easy to operate. The convex ultrasound transducer type is also called the curved transducer because the piezoelectric crystal arrangement is curvilinear.  Moreover, the beam shape is convex. is good for in-depth examinations, and the image resolution does not decreases when the depth increases. The Wireless Convex Ultrasound Scanner doesn't compromise on image quality.
You can use it for:
Abdominal examinations.
Transvaginal and transrectal examinations.
Diagnosis of organs.
The Wireless Convex Ultrasound Scanner CCD is leading the charge by bringing enhanced diagnostic and treatment accuracy to more patients. Wireless and now available with advanced features as it interfaces with your tablet or smartphone and it is iOS and android compatible. The dedicated app can be used to view the ultrasound signal, store images and send them by e-mail. Wireless freedom, high imaging quality and quality assurance. It has it all.
Our Color Doppler Ultrasound adds clinical value and can help support excellent patient care. Furthermore, the wireless probe can be used without  fixing of cables Just flip the top and it starts up. You can also count on this Ultrasound Scanner throughout your busy day, a single charge provides up to 90 minutes of continuous scanning. Easy-to-swap batteries can extend operations all day long.
In addition,  The Wireless Convex Ultrasound Scanner is innocuous, mobile, easy to use, inexpensive and accessible. Moreover the scan provide real time images. These inherent virtue provide significant incentives.
The Wireless Convex Ultrasound Scanner CCD Elements helps in diagnosing common conditions, including consolidation, interstitial syndrome, pleural effusions and masses, pneumothorax, and diaphragmatic dysfunction. It provides procedural guidance for various pulmonary procedures, including thoracentesis, chest tube insertion, transthoracic aspiration, and biopsies.
Lung ultrasound with color Doppler imaging is highly accurate and valid alternatively in diagnosis of pneumonia. By qualitative and quantitative impedance measurement, pulmonary and bronchial arteries can be differentiated. The flow pattern of pulmonary arteries was an indicative of good outcome.
Gynecologists and Obstetricians use our machine in their day-to-day operations as a single charge provides up to 90 minutes of continuous scanning. Easy-to-swap batteries That can extend operations all day long. In addition to wireless freedom, superior image quality. the Color ultrasonograpghic sensor also measures, distance, area, obstetrics and other.
The CCD Ultrasound Probe is the technology's greatest potential for surgical mitral valve repair. The technology allows the surgeon to immediately see the results of the repair, and provides good information on the evolution of ventricular function.
       Features:
Interfaces with a tablet or smartphone.
Providing color scanned images.
Built-in and replaceable battery.
Advanced digital imaging technology, clear image.
High cost-effective.
Wireless connectivity, easy to operate.
Small and light , easy to carry.
Useful in Pulmonology, emergency, Cardiovascular Medicine, clinic, outdoor, pregnancy , abdominal diagnosis, and vet inspections.
Intelligent terminal platform, powerful expansion functions on application, storage, communication and printing.
Apple iOS and Android Compatibility.
       Specifications:
Description: Convex probe Color Doppler.
Scanning mode: Electronic array.
Element: 192.
Dimension: 150mm x 60mm x 20mm.
Weight: 200g.
Display mode: B, B/M, color,PW, PDI.
Frequency: 3.5/5MHz.
Depth: 100mm~305mm.
Measure: Length, Area, Angle, obstetrics,blood flow velocity..
Image frame rate: 20f/s.
Battery working time: 3 hours.
Wifi type: 802.11n/5G/450Mbps.
Working system: iOS/Android /Windows.
Charging mode: USB charging or wireless charging.
Android phone brand: SUMSUNG,HUAWEI, HTC, SONY, Google Nexus, MI.